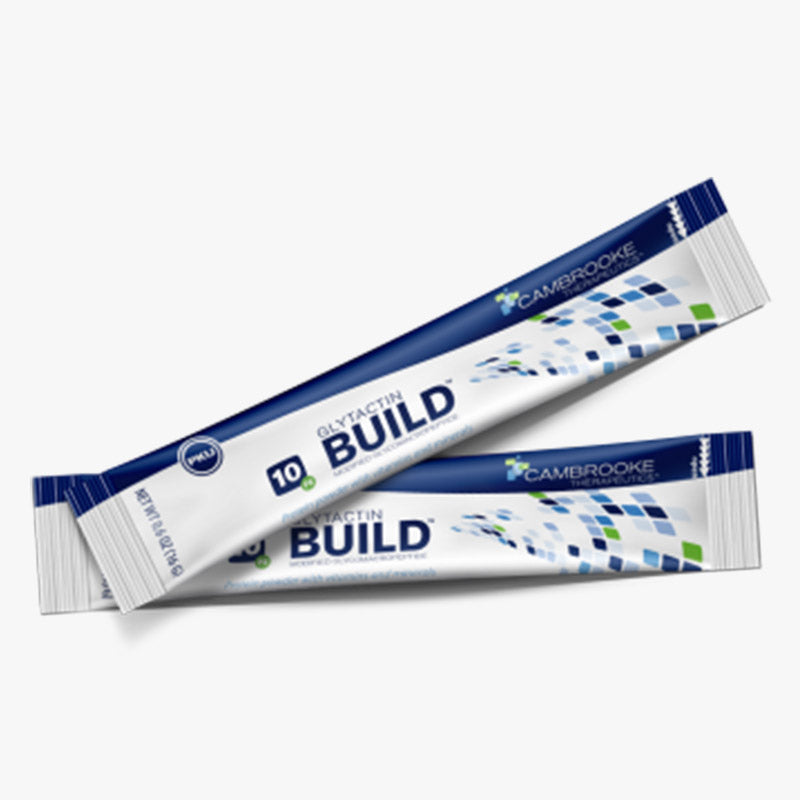 For the dietary management of phenylketonuria (PKU). Glytactin BUILD 10 is a metabolic formula for PKU patients. Each packet contains 10 grams of Glytactin protein, now with only 10 mg Phe per serving, the optimal blend of glycomacropeptide (GMP) and amino acids, designed to enhance the protein content of a low Phenylalanine (Phe) diet. A neutral-tasting versatile powder to be taken alone or incorporated into beverages and low protein foods. Can be used as a 10-gram low-Phe Glytactin protein booster for any PKU formula.
Nutritionally complete supplement
10g protein equivalent (PE) per 16g sachet
Only 54 kcal per sachet (our lowest calories per gram of protein equivalent)
Comes in neutral flavour. Can be flavoured
Highest grade GMP based with a great taste and, probiotics plus micro and macro nutrients
In stock, ready to ship

Inventory on the way
PKU BUILD 10 powder is for use in the dietary management of phenylketonuria (PKU). PKU BUILD 10 is intended for those requiring 10g of protein equivalent who are under medical supervision for proven PKU. Protein in prescribed amounts must be supplemented to completely meet phenylalanine requirements. Work with your metabolic clinician to determine the daily protein intake (number of grams) you will use per day. Always use PKU BUILD 10 as directed by your physician or dietitian.
Recommended dilution: Add 1 pouch to 120mL of water. May be adjusted to taste.
Shake well.
Store in a cool dry place. Best By*: See individual packet or sticker on box.

* please note use by date may be in American date format.
Ingredients:
Whey protein isolate (glycomacropeptide), vitamin and mineral blend (calcium lactate, monosodium phosphate, choline, monopotassium phosphate, magnesium phosphate, sodium ascorbate, vitamin E [dl-alpha-tocopheryl acetate]), iron [ferrous fumarate], niacinamide, zinc sulphate, calcium d-pantothenate, manganese sulphate, vitamin B1 [thiamine HCI], vitamin B2 [riboflavine], vitamin B6 [pyridoxine HCI], copper gluconate, folic acid, vitamin A [palmitate], potassium iodide, sodium selenite, vitamin K1 [phytodione], vitamin K2 [menaquinone-7], sodium molybdate, chromium chloride, vitamin D3 [cholecalciferol], biotin, vitamin B12 [cyanocobalamin]), leucine, non-dairy creamer (sunflower oil [tocopherols], maltodextrin, modified food starch, mono & diglycerides, citric acid, tricalcium phosphate), tyrosine, arginine, histidine, trytophan, natural flavour (maltodextrin), probiotic (skim milk powder, Bacillus coagulans GBI-30 6086), methionine. Contains milk.